Professional BoatBuilder and WoodenBoat magazines' second design challenge drew 58 excellent submissions from professional and amateur designers in 17 countries. Our panel of judges had the pleasure of studying all of them, and the unenviable task of choosing those that best fit the design brief of Design Challenge II: More Pleasure at 2 Gallons per Hour. Intended to inspire designs for cheaper, more fuel-efficient, and seaworthy vessels capable of carrying a family on overnight excursions, the parameters were as follows:
Must be trailerable for affordable launching, over-the-road transportation, and storage.
Max beam 8′ ; max length 40′
Minimum length 24′, stem to transom
Trailerable weight (with engine) should not exceed 3,500 pounds
Must burn less than 2 gallons per hour (7.6 l/hr), maintaining a 10-knot cruising speed in a 2′ (0.6m) chop and 15-knot breeze while carrying 800 lbs/362 kg (family of four). Favorable consideration will be given for continued efficient fuel consumption and good seakeeping abilities at speeds in excess of 10 knots
Must include at least spartan overnight accommodations (berths, head, galley) for two adults and two children
Must be a new design
Submissions should be the designer's original, previously unpublished work, and include lines, profiles, sections, table of offsets, accurate weight study, cost calculations, and performance predictions.
Now we have the winners in all three categories: wood, metal, and composites. In-depth stories about the winning designs as well as a roundup of innovations, good ideas, and details from other submissions will appear in upcoming issues of Professional BoatBuilder and WoodenBoat magazines.
Composites Category Winner
Our composites winner is the Vrimibo 29 (8.8m) from the drawing board of Bouma & Tander yacht design & marine engineering. Rob Tander and Sjoerd Bouma are in their final year of the naval architecture program at INHolland University of Applied Sciences  in Delft, The Netherlands.
The Vrimibo 29 is a study in appropriate aesthetics, efficient hull design, and clean, spartan accommodations. The designers met the spirit and specifics of the challenge with a handsome, simple boat to be built of cored composites.
Wood Category Winner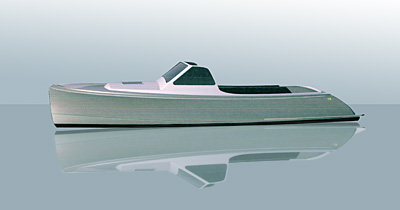 The wood category winner is the 30′ (9.1m) St. Joseph Sound Launch from Jon Ames, a design student of Westlawn Institute of Marine Technology . Ames focused his design on creating a fuel-efficient weekend boat to explore the waters of St. Joseph Sound on Florida's west coast. Built of cedar-strip planks encapsulated in fiberglass, the boat keeps weight to a minimum with its large, open cockpit and minimal accommodations.
Metal Category Winner
The winner in metal is the Silver Arrow 860, a 28′ (8.5m) aluminum powerboat from Albert Nazarov at Albatross Marine Designs in Thailand. The boat has an almost military look, favoring utility over finish. Building light and narrow, as the design parameters required, Nazarov is still able to fit in some of the most gracious accommodations of any boat that size in the competition. His hard-chine hull has the very fine entry and easy runs aft that characterize all the winning entries.