At the 1958 edition of the Boston Boat Show, engineer/entrepreneur Dick Fisher introduced a pricey and—let's be honest—homely 13′/4m utility outboard skiff. Looks aren't everything, right? Fisher's uniquely shaped boat, designed in collaboration with Ray Hunt, and manufactured with foam-cored fiberglass in a patented process, achieved phenomenal success in the marketplace. In the late fall of 1989, when Professional BoatBuilder magazine profiled Boston Whaler the company in issue No. 2, some 65,000 units of its 13-footer had been sold. Within three years of startup, Fisher introduced a 16′/4.9m hull derived from the original 13′ model, and gave it a center console—the first production boat so equipped. That model was soon stretched slightly to 16′7″ (5.1m) and sold as a 17; after a series of place names for it (Nauset, Eastport, Sakonnet, Currituck, Menemsha), the company settled on "Montauk," in 1973, arguably the most popular small sportfisherman ever produced.
This older family of hulls—the 13 and 16/17s—only minimally modified over many years, have come to be known, collectively, as "classic" Whalers, and iconic versions were produced and promoted as such for the company's 40th anniversary. More recently, even while Whaler's current owner, Brunswick Corporation, steers the Whaler product line away from its distinctive earlier look, a significant countertrend has emerged. Large numbers of used classic Whalers, especially the 16/17-footers, are being bought to be rebuilt, and—if a yard is involved—restored on spec and sold to a growing market of customers specifically seeking classic Whalers. Once they're structurally repaired and cosmetically refinished, these boats typically receive new or late-model motors and trailers.
The rise of the Internet has intensified this largely underreported trend. Search engines enable buyers and sellers of classic Whalers to browse prospective boats around the country. Also, Whaler "fan" sites—a generic term for websites created and managed by individuals with an often passionate interest in a given subject—have sprung up, offering online forums for the exchange of information, along with technical advice on repair procedures, some of which are peculiar to Whaler construction.
(As with so much of what's available on the Internet, a great deal of this free information is unvetted. Let the reader beware.)
The interview that follows covers a trio of classic 17′ Whalers, focusing on one in particular: a 1985 Super Sport (same hull as the Montauk but with a different layout, featuring a sit-down helm). They were reoutfitted for deploying sensitive acoustical gear to conduct fisheries-related research across Canada. Although Boston Whaler long ago established a separate division to build beefed-up customized commercial versions of its hulls—for fire/rescue, harbor patrol, et cetera—the classic Whalers in this article were recreational craft in their previous lives, and have been specially adapted to their new roles as small research vessels.
Our classic-Whaler aficionado is Ed Stern, who completed the marine systems program at The Landing School of Boatbuilding and Design (Arundel, Maine) in 2001, and apprenticed with custom boatbuilder Brion Rieff (Brooklin, Maine) both before and after. Among Stern's other maritime pursuits, he has also crewed aboard a Tall Ship, caretaken a yacht, garnered experience (and earned a master's degree) in fisheries management, and worked as a commercial fisherman in Newfoundland & Labrador, and Alaska.
---
Professional BoatBuilder: You mentioned various "boat-gypsy positions" in your past. Are you done roaming?
Ed Stern: Yes, for now. I'm reasonably settled in St. John's, Newfoundland, as a fisheries technologist based at Memorial University's Marine Institute, with a mix of systems, science, and research to busy me daily. The Whaler project I'm about to describe was completed for a Manitoba-focused hydro-acoustic study, part of a larger research effort called Hydronet, based at the University of Montreal.
PBB: Why Whalers? How did you and your research team happen to select this brand of boat?
ES: While conducting exploratory surveys in 2010, our office deployed acoustics from both an aluminum skiff and a borrowed late-1960s Super Sport. For this exploratory work we operated a standard retail Lowrance HDS-5 unit, which experienced degrading interference from the aluminum skiff—compared to the Whaler. That was the original incentive to find a Whaler of our own. Our formal research utilizes scientific-caliber echosounders from BioSonics, of Seattle, Washington. We deploy their 220-, 420-, and 1,000-kHz transducers. The research project involving the Whalers includes benthic mapping and fish-population assessment. We're in a feasibility stage for freshwater fisheries acoustics. Our office ordinarily focuses on Atlantic marine fisheries.
That first Super Sport from our 2010 exploratory work is powered by a 50-hp [37.3-kW] late-model Mercury four-stroke.
PBB: So the success of the exploratory Whaler encouraged you to add more Whalers to the research effort. Tell us about the other two.
ES: One is a mid-1980s Montauk, a loaner from a research partner in Manitoba. That boat has a 90-hp [67-kW] four-stroke Honda, which is overweight for that transom, but we couldn't replace it with a smaller motor. We secured permission well in advance to add an acoustics clamp to the Montauk, similar to the one we installed on the newer Super Sport, which I'll discuss in a moment. So, when we arrived in Manitoba we were prepared to mount an extra clamp with the same method we'd developed in St. John's for the newer Super Sport. It turned out to be a good method and required only a day to prep, drill, glue, and finish installing the Montauk's clamp.
PBB: There's our segue to the Super Sport conversion project. First, though, what was the provenance of that boat?
ES: We found the Super Sport on the Internet, searching through classifieds on craigslist in September 2010. Since boats of any sort are at a premium in Newfoundland, it was more cost-effective to drive to Eliot, Maine, to purchase the Whaler and bring her back to St. John's. She had previously been a family summer boat for about 10 years. Those owners bought her in New Hampshire from, I believe, the original owner.
The motor on the transom now is a 50-hp four-stroke Mercury that we purchased new in 2011, though it may be a 2010 model. The engine that came with this Whaler was a two-stroke Mercury 90-hp Optimax, a late-'90s model. It was overweight for the transom; older Whaler transoms were rated to support a total weight of 300–330 lbs [136–150 kg]. I checked with Boston Whaler about that last year, but can't recall the exact recommended max weight.
PBB: Tell us about the rebuild you undertook prior to attaching the acoustics clamp.
ES: It began with a damage assessment. I found minor water intrusion behind deck fasteners under the console and near the transom. The 1″ [25.4mm] brass drain had seen its day; there was a somewhat punky mess in way of that drain when I removed the fitting. I let the area air-dry in a painfully dry welding shop where I was doing the rebuild. When I couldn't feel any more moisture in the drain cavity, I applied PRO-SET epoxy to glue in a replacement nylon drain tube that was ordered and shipped from a Whaler dealer in Nova Scotia. The remainder of the transom's lower quarter also showed signs of water intrusion through the core, but it wasn't nearly as bad as I expected. There was one bad spot low, on the port side, and another in the bilge well. The port-side low hole in the transom continued to weep. I sopped it with acetone, gained a dry 1/8″ [3.2mm] or so of foam and glass, and injected PRO-SET, hoping for the best. After the season we spent in Manitoba, nothing appears to have failed.
Time constraints prevented me from completing a more thorough drying of the hull's interior, so I'm sure I sealed some moisture in the hull. For 95% of the holes in the hull, I drilled and cleared material until I found dry yellow foam or unstained wood as the case may be, and then backfilled with PRO-SET in a syringe. For a few very small holes I applied G/flex epoxy by syringe.
I completed all work on the boat in the spring of 2011. The biggest single item for me in that project was patching the many holes I'd drilled into the hull and deck, and then installing our acoustics clamp in such a way that it wouldn't unevenly flex on the hull. I drilled out the bolt holes large enough to get clean foam all around, then used a ¾″ [19mm] countersink to bust off any surface irregularities. I figured a countersink would give me some bevel on the inner-skin laminates for the patches. It was far from perfect, but proved to be a fair balance between time available for the job and increased surface area for the bond. Once the holes had been vacuumed, dried, and wiped down, I injected PRO-SET with syringes.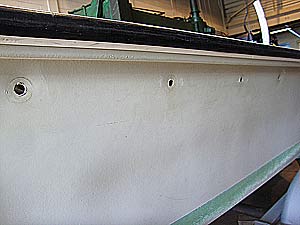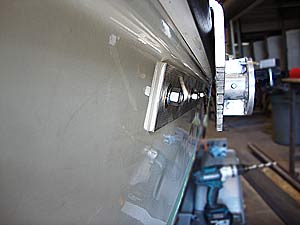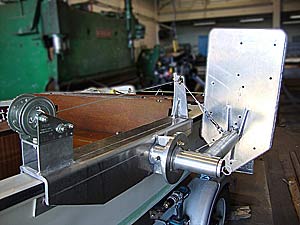 As for the clamp, it was designed with a large backing plate and four ½″ [12.7mm] bolts. For the hull penetrations, I decided the best approach, in terms of time and resources, would be a heavy-walled, prefabricated, turned-fiberglass G-10 tube, of ¼″ [6.3mm] wall thickness, glued around its face and sides to the hull laminates and foam. The inner laminate was a friction fit to its edge, and then faired smooth. The clamp system on both Whalers worked very well this past summer, and I don't believe there was any crushing of the foam or undue flexing.
A few other bruises and dings on the boat also received a PRO-SET fix. I remember seeing a convincing demonstration, at The Landing School, of a nail getting pounded into a block of the stuff without so much as a chip or a crack in the block. I've since used PRO-SET for repairs like those on the Super Sport, so I'm confident it offers enough flex and adhesion to do the job.
I also repaired the bow eye with it, adding a G-10 tube for increased strength, same as with the acoustic clamp. Wasn't my neatest work; I reground and reapplied epoxy three times to get the bow fair.
PBB: You'd said there's a new console in that Super Sport.
ES: Yes, the original unit had gone by; too much rot. So I made a new console during the repairs in 2011. I wish I could have properly finished the new mahogany parts, but there wasn't enough time. The new console entered the season with just two coats of clear WEST SYSTEM epoxy protecting it. I have a two-part varnish that I will apply in 2012. A few spots did burn through during the Manitoba summer, what with intense UV rays under full sunlight and 35°C [95°F] weather we had there. I found I need to devise a different door for the locker beneath the console; it's a tight squeeze between the console and the thwart for swinging doors that are commonly stocked. I'm considering something like drop boards, as in a companionway hatch, or an accordion door made of tinted Lexan. The other original woodwork in the boat will have to wait for refinishing, but it can all be stripped and salvaged.
Right now the boat is in Manitoba, awaiting our next field season. We don't have plans to rebuild more Whalers for this work, but we do expect to bring our newer Whaler home in late 2012. If we need additional platforms for future freshwater research, we'll likely employ Whalers. They make a perfect platform as a "silent" and stable vessel for the advanced acoustics we use. Again, their quiet signature is brilliant for our work compared to the drum of an aluminum skiff.
PBB: How do the different layouts in your Whalers—center-console versus sit-down helms—compare for the work you do?
ES: This coming field season I'd like to mix-and-match the two research platforms, if we can. The center console is by far the more comfortable setup for the helmsman. It's easier to get around the boat to handle equipment and navigate the survey course, and it's comfortable to be able to either sit or stand during our sunrise-to-sunset days in the Manitoba heat. However, the center-console version was less suitable for the scientists. Extra seating was on the cushioned Igloo cooler forward of the console. It's a "cozy" arrangement, all right, for two scientists who need to monitor acoustics throughout the day. We placed the computer in a shaded container—actually a recycling container, turned on end—forward, at the bow, for lack of other options.
That's where the console layout of the Super Sport shines. The full-beam thwarts offer adequate seating and space to arrange equipment, and the ¾-beam console is a great place to mount the computer. All three people aboard can sit on one thwart and see the computer screen if needed.
I made one major change from the factory Super Sport layout. The original console positioned the helmsman on the centerline, with controls mounted on a vertical plank beneath the inside lip of the L-shaped console. After discussion in 2010 with Dr. George Rose—director of our research office and who's pictured in the exploratory Whaler—we flipped the console design so as to put the bottom of the "L" inboard rather than straddling the starboard woodwork. That placed the helmsman to starboard, a familiar position from Whalers I remember as a boy. This console redesign primarily gave us a larger work surface near the center of the boat.
As a helmsman, however, I found the Super Sport arrangement almost unbearably uncomfortable. Partway through the season I purchased a swivel seat, and drilled out the lovely mahogany thwart to mount the swivel base. Sitting on a wooden plank all day, cramped against the starboard side, was less than invigorating. Also, the height and depth from the wheel are all wrong, and I'm only 5′6″ [1.7m]. I'd move either the console forward or the thwart aft, and make some arrangement to raise the wheel as well, but I've not yet investigated the exact ergonomics involved. Those alterations would be a big job, so we'll simply make do for now.
Still, if I had the time to further customize the layouts of these vessels, I would opt for a center console for the helmsman. I'd have to shift the entire console aft a few feet to open up the sole for equipment—and for scientists. I'd install a thwart amidships, as in the Super Sport, and possibly a second thwart just forward of the console if space allows. And, assuming it could fit, I'd consider some means of installing the computer at a comfortable height and distance off of the thwart, whether on the bow or on an independent stand of some kind.
Critical, too, and already on the commissioning list for this summer, is a bimini. We baked last year in the Manitoba drought. The sun-plus-heat there caused our echosounders to malfunction, which was a nearly disastrous end to our research. Quick thinking back at the head office—with crucial extra parts—got us under way again.
PBB: How well did your boatbuilding apprenticeship and systems training prepare you for the tasks involved in this classic-Whaler conversion? Also, Whaler construction is proprietary and differs from conventional FRP boats. Did you research the repairs required?
ES: One resource on the Web is a classic-Whaler site called continuouswave.com. For me, it addressed some basic information about the Super Sport: specs, engine recommendations, that sort of thing. And it gave me confidence that I was on the right track. I did look around the site for hull repair techniques, though I opted for similar techniques I had learned at The Landing School and while working for builder Brion Rieff. I found the website's discussion of trailering to be especially useful. Our newer Whaler, the Super Sport, has a bunk trailer, but the loaner Montauk's trailer has rollers. In my opinion, its trailer is terrible for the cored hull, because you risk delamination or crushed foam with every point-loaded bump on those rollers. An extra risk with a roller trailer was realized when a roller popped off one day as we were hauling the Montauk. The roller didn't go missing, but it must have caught an edge and crushed past its keeper on the roller pin. What I found under the hull that afternoon was a rusty metal rod jammed against the hull, causing damage to the gelcoat and glass. I don't know if we'll be able to get a different trailer this year, but I will absolutely avoid putting our Whaler on that trailer if I can help it.
Marine Systems program manager Roger Hellyar-Brook, his assistant at the time Rob Bensen, and their curriculum at The Landing School were essential in my preparation for handling this Whaler project. Overall, the job felt like a modest application of composite techniques, and given resource and time factors that were out of my control, I think it came out well. I never pursued a career path in marine systems, having gone first into commercial fishing and then fisheries management, so it's even more to Roger's and Rob's credit that they instilled in me a value for quality workmanship—doggedly reinforced by Brion Rieff as well.