The Sea Bright skiff is an American innovation that first appeared on the beaches of New Jersey in the early 19th century. Originally rowing and sailing skiffs, they were launched and retrieved between beach and breaking surf. The model proved to be one of the most seaworthy of all small craft, and it is still used today in life/rescue operations worldwide.
With the advent of the marine engine shortly after 1900, the skiffs grew in size and diversified in function, being used for commercial fishing, rum-running, and eventually for pleasure. The hollow "box keel," peculiar to the Sea Bright type, allowed engine installation to be horizontal, promoting a low center of gravity and no power loss due to down angle in the drivetrain.
In the late 1920s the Banfield yard in New Jersey developed powerboats for pleasure use, introducing 32′ and 34′ (9.8m and 10.4m) models. In 1928, in a promotional gambit, a Banfield 32 voyaged to Bermuda and back, proving beyond any doubt the seaworthiness of the type, and popularizing the Sea Bright skiff beyond local waters.
My own fascination with the type began with my discovery of a derelict open powerboat model in Surf City, New Jersey, in 1995. I began a design series for Sea Bright skiffs, starting with rowing/sailing models under 20′ (6.1m) in length, eventually designing larger models, culminating in a 50′ (15.2m) cruising motorsailer.
A few years ago I discovered scholar Peter J. Guthorn's excellent history book The Sea Bright Skiff and Other Shore Boats, Schiffer Publishing Ltd, 1971. Guthorn's book features many powerboat models that developed in the 20th century, but the one I fell in love with is the 1928 Banfield 34. I knew I would have to design a modern version of this beauty.
All Sea Bright skiffs are of lapstrake construction, strong, durable, and light, and have the unique box keel that tapers from the stem/forefoot, flaring to nearly one-third of the hull's beam amidships, and tapering to the sternpost/prop aperture aft. I designed my own version of the historic type, creating a semi-displacement powerboat hull of light/moderate displacement with the following dimensions:
| | |
| --- | --- |
| Length over all | 37′11″ (11.6m) |
| Beam | 10′6″ (3.2m) |
| Draft | 2′4″ (71cm) |
| Displacement | 9,500 lbs, half-laden, approximate (4,309 kg) |
| Power | Yanmar 4JH4HTE (110 hp int/99 hp cont) |
| Water | 200 gal (757 l) |
| Fuel | 200 gal |
For construction I specified cold-molded lapstrake, utilizing marine plywood ripped into planks, scarfed full-length, and fastened with stainless steel deck screws and epoxy. The planking is laid over plywood bulkheads (no frames) erected on a strongback and built upside down. The hollow box keel and garboard strakes are thicker than the planking, creating a very strong, light monocoque unit that can withstand hard use. The raised flush deck creates a large, open atmosphere inside the cabin, and is of composite construction: internal sawn spruce beams interspersed with commercial polystyrene foam between plywood sandwich layers. Standing headroom is 6′ (1.8m) on the centerline. The pilothouse hardtop is of similar construction. All exterior (and interior "wet" surfaces) are covered with 4-oz Xynole-polyester fabric saturated with epoxy (two layers below the waterline, six on the keel bottom). The "stretchy" qualities of Xynole allow it to conform perfectly to the lapstrake hullform. No other fabric can do this as easily, if at all. Xynole also has excellent abrasion resistance, peel strength, and wet-out characteristics (up to eight layers simultaneously). Exterior paint is specified to be linear polyurethane over epoxy primers.
I created a pragmatic liveaboard interior suitable for a long-range cruiser, including oversize integral fuel and water tanks, and a large, comfortable self-bailing cockpit. The bench seat aft can be eliminated in favor of fighting chairs for deep-sea fishing. The anchor-well forward, with "rumble seat," provides a secure area for handling ground tackle—or enjoying the ride from a unique vantage point. The hollow box keel allows the inboard diesel to be installed below the cockpit well, posing no intrusion into the cockpit. With the double hatches open, you can sit in comfort next to the engine to conduct maintenance.
Accommodations are for four adults, with an enclosed head, lavatory, and shower, a large U-shaped galley, and office/navigation station. Curtains can be drawn to separate the V-berth from the saloon. The helm, under a wheelhouse hardtop, can be located port or starboard, the owner's choice. The single-screw diesel is a Yanmar 4JH4HTE, turbocharged to 99 continuous horsepower. Cruising speed is estimated at 10 knots, burning less than 2 gal (7.6 l) per hour, with a top speed around 15 knots.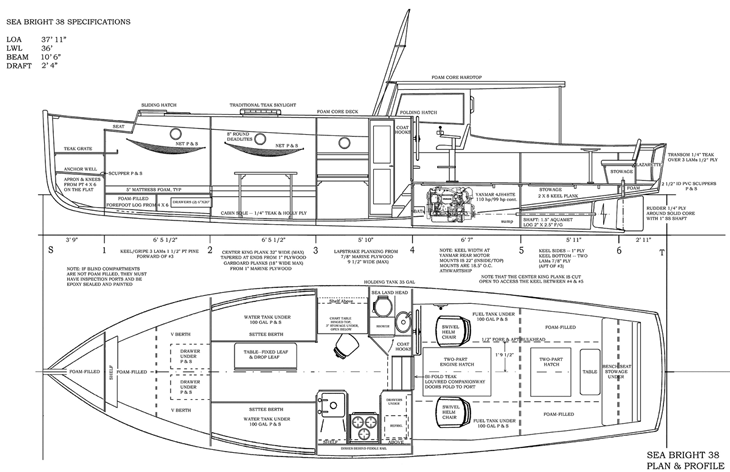 The goal is a sturdy, durable, fuel-efficient cruising powerboat that will be at home during long weekends on Barnegat Bay, or capable of yearlong cruises through the Lesser Antilles. And she will turn heads wherever she goes.
Full Plans are available from Parker Marine Enterprises for $850 and include the construction manual The New Cold-Molded Boatbuilding. Study Plans are $25. Website: www.parker-marine.com E-mail: info@nullparker-marine.com.
About the Author: Reuel Parker is a yacht designer, shipwright, and author of books and magazine articles about boat design, construction, and cruising. There are 10 designs in the Sea Bright Series.