from Professional BoatBuilder magazine No. 149
Compiled by Dan Spurr
Two Steps Ahead
In 2012, Patrizio Ferrarese, head of R.A.M., the Italian Riva Boat Service founded in 1957 by his father-in-law, Carlo Riva, received a message from an American former customer wanting to restore a 1981 Monte Carlo Offshorer, but with a resolutely contemporary look. Ferrarese gathered a state-of-the-art restoration team in Sarnico. When the boat was delivered to the yard, it was evident that the 32-year-old hull, number 91 of the series, was in excellent condition, and a suitable candidate for a makeover.
First, some background: Carlo Riva's great-grandfather Pietro Riva, began repairing boats on Lake Iseo, Sarnico, in 1842, after a storm damaged many of the local fishing boats. Several generations later, Carlo Riva brought the brand into the modern era with the elegant high-speed mahogany runabouts favored by celebrities and other wealthy boaters. In 1962 his introduction of the 28.9′ (8.8m) Aquarama advanced the company's reputation as the sexiest European brand. Selling the company in 1970 to the American conglomerate Whittaker, which had also bought Columbia Yachts, he stayed on as chairman and general manager, before resigning in 1971. He then devoted himself exclusively to R.A.M., to service and restore Rivas.
While Riva Yachts changed hands several times—Whittaker in 1969, Vickers Rolls-Royce in the 1990s, Ferretti Group in 2000, the Chinese SHIG-Weichai Group in 2012—R.A.M. never left its next-door premises of origin and is still owned by the Riva family. Indeed, 92-year-old Carlo Riva maintains his office in the same building. His son-in-law Patrizio Ferrarese is president, assisted by his nephew Anselmo Vigani, general manager. Restoration of wooden Rivas is the core business, but R.A.M. is in daily contact with the Riva Ferretti yard, for sales and special construction projects of smaller models, such as the custom  27′ (8.2m) Riva Iseo runabouts; they were chosen by Laurene Powell Jobs, widow of Steve Jobs, as tenders for the 260′ (79m) superyacht Venus, built by Feadship in Holland.
One of the many models Carlo Riva built was the Monte Carlo Offshorer, whose origins can be traced to American raceboat designer Bob Hobbs and engine expert Cal Connell, who developed a three-plane, two-step hull to show Carlo Riva in the 1970s. The purpose of the steps was to lower the speed at which the boat starts planing, to increase efficiency and speed. But this cold-molded wooden prototype, built by a small boatyard in Miami, had severe defects, specifically its instability. The prototype was shipped to Monaco, where Riva made modifications to improve handling and then put the model into production as the first series-produced stepped-hull speedboat.
Because of a no-compete contract with Whittaker, Carlo Riva stayed in the background during the years 1973–76 while his team produced the prototype of the stepped-hull Monte Carlo Offshorer 27 (8.3m). It went into production at an all-new construction site in Ventimiglia, Italy, on the Franco-Italian border within easy reach of Monaco by truck for quick delivery. In 1977, the yard took the new name Offshorer Marine under Patrizio Ferrarese's administration, and soon developed a 30′ (9.1m) model in fiberglass that became a familiar sight along the Riviera and Mediterranean Sea; 101 units were produced until 1988.
Returning to the restoration of the Monte Carlo Offshorer for the American client: Mauro Micheli was enlisted as design director of the project. Founder of the studio Officina Italiana Design, he has been the successful designer-in-chief of all Riva yachts since the end of 1990s. With an acute sense of the proper harmony between new materials, shape, and color, Micheli was responsible for all styling above the waterline. After a series of sketches on paper, the designer, armed with a big felt-tip marker, drew on the sanded gelcoat of the old hull the zones and the lines that he intended to modernize.
The Offshorer was completely stripped, and all its original equipment disassembled and removed—most of it would be replaced by new parts or accessories specially designed by Micheli. The innovations that made the glory of the initial model of the 1970s, such as the driver's center console, were preserved and highlighted by a contemporary treatment. Faithful to its simple, elegant style, Micheli proposed several palettes of new colors and materials.
Most impressive was the esthetic and technical challenge of applying a mirror-like chrome film to the entire hull, starting from the waterline. The concept is to surprise and to fascinate the spectator.
After 3,200 hours of hard work, in spring 2013 the new unit called RAM Offshorer was relaunched. The new engines were in position: two MerCruisers of 310 hp (233 kW) each, replacing the old Riva 350 V8s with their heartening sound as well as their unquenchable thirst. The original power/weight ratio specifications were respected, but efficiency was considerably improved. With new prop shafts and new propellers, the boat easily reached 50 knots, dominating the waves, as in the good old days.
In the meantime, Carlo Riva in his adjoining offices did not miss a step of the process. History will doubtlessly remember that it was probably one of the last boats produced with the cooperation of Carlo Riva—a unique work signed by the workshop of a great master.
Paul Valen Coble: 1923–2014
Paul Coble, who died February 12 at the age of 91, was special. I do not use the word lightly. Let me count a few ways in which he stood out in a crowded field of seamen, boat builders, surveyors, and occasional designers. His life in boats spanned seven decades, from sailing his father's Cape Cod dory on Barnegat Bay in the 1930s to teaching surveying in Rhode Island well into the new century. In between was a rich life centered on boats and maritime crafts. If you said he'd amassed more knowledge of boat construction in his little finger than most builders acquire in a lifetime, you wouldn't be stretching the truth by much.
I got to know Paul Coble during the early 1980s, when his boatbuilding career was winding down and to keep his head in the game, as it were, he began surveying and teaching others how to understand boat construction and repair. Then I was an editor at Cruising World magazine in Newport, Rhode Island, and would bump into Paul here and there, often in boatyards, which we preferred over most other places. By 2003 I'd moved on to Professional BoatBuilder magazine and was delighted when Paul Lazarus, then the editor, asked me to write a profile of Coble. I spent a day with Coble in Jamestown, Rhode Island, doing what we do best: looking at boats.I asked him to show me some surveyor tricks, starting with a wood boat, an old Chris-Craft Continental runabout. Looking at the prop nuts on the shaft, he admonished those who think the smaller nut of the two goes on last: "There are more threads on a thicker nut—so you can torque it down tighter." With that eternal controversy settled once and for all, he took his ball-peen hammer from his belt and began tapping the hull. "Do a percussion survey of the entire hull below the waterline," he said. "There are more fastener problems forward than aft, where you'd expect it due to all the metal running gear causing electrolytic corrosion." His reasoning: There are more deck leaks forward because of loads on the bow area.
Sometimes while surveying with the buyer and broker present, if the latter was giving him a hard time, he'd flip the hammer from plastic end to metal end just to scare him…and let him know who was calling the shots.
One thing that made Paul Coble so special was his making the transition from wood to fiberglass construction, and he learned the new material very well. Designing for it, too. Looking at a Hinckley sailboat, he noted that the rudder drew more than the keel, which should suggest to a surveyor that the stock, tube, and bearing should be carefully inspected for possible damage. Nor did he like that the shaft couldn't be extracted without first pulling the engine.
But I've skipped so much of his career. As a merchant seaman during World War II, he ran Liberty ships across the Atlantic, where German submarines picked off the corners of the flotilla: "the only time my knees turned to jelly," he said. After the war, in no particular order, he studied at Stevens Institute; worked for Luders Marine Construction, Derecktor Shipyard, and designers Philip Rhodes and Olin Stephens; built three 12-Meters for America's Cup competition, including Intrepid, the last wooden yacht to win the Cup; designed the Bristol Corsair and others for Clint Pearson's Bristol Yachts Co.; served as production manager for Pearson Yachts during the early 1960s; and built tooling for O'Day, among many others.
If you'd like to learn more about this remarkably accomplished, modest man, I encourage you to read my article about him in PBB No. 88, "A Man for All Trades." Figuring that most of you don't have that April/May 2004 issue, I will repeat the ending here:
"Indeed, he is beloved on this small island. When we finished looking at boats and went into town, everyone we met smiled at him. On the street. In the diner. "Yes, Mr. Coble!" "Thank you, Mr. Coble!" As if he'd just given them a million bucks. In truth, I could tell he's given them something much more valuable…and it has nothing to do with boats."
Hobie Alter: 1933–2014
The beach boy who revolutionized at least three sports—surfing, sailing, and skateboarding—died last March at the age of 80. Called a "reluctant businessman," Hobie nevertheless made a lot of money doing what he loved most: inventing products for fun on the water.
Summering in Laguna Beach, California, Hobart Laidlaw Alter was an avid surfer, and as he would throughout life, he soon figured he could build a better board. A self-taught designer and tradesman, he began building lightweight boards from balsa planks and fiberglass skins. In 1958 he switched to polyurethane foam core for even lighter rides.
Once he'd established a production process and the work became repetitive, he'd move on to something else. In 1968 he rocked the boating establishment by producing the Hobie 14 (4.3m), a so-called beach cat that one person could tow or cartop to the beach, then rig and drag into the water, thereby enabling average-income people to participate in the sport of sailing. Like the hall-of-fame Sunfish and Laser monohulls, owning a Hobie 14 didn't require membership in a yacht club or renting a marine slip. A line of larger models followed: the Hobie 16, 17, 18, and 21 (4.9m, 5.2m, 5.5m, and 6.4m). More than 150,000 were sold by the end of the 1980s.
In 1982 Alter designed and built the Hobie 33 (10.1m) monohull, with 8′ (2.4m) beam and retractable ballast keel so it could be easily towed.
While associates said he paid little attention to the balance sheet, he was a keen marketer, developing accessory product lines like sunglasses and clothing that were key to creating the California beach lifestyle. In the late 1960s he designed and produced a line of skateboards, reasoning that the balancing and navigating skills were similar to surfing.
According to the Los Angeles Times obituary, he'd get hyper-focused on a project, often working through the night, quitting only when he heard the morning newspaper land on the front stoop. One consequence: five marriages. "It's not the kind of thing that's conducive to a marriage," he told the newspaper in 1977. "It tends to drive everyone around you crazy."
Alter sold the Hobie brand in 1976 for $3.6 million to camping equipment company Coleman Corp., which has continued to develop the brand with innovative boating products such as sit-on-top kayaks and paddleboards.
While no cause of death was announced, Alter had been battling cancer for five years.
Volvo Offers Oil Analysis
Mechanics and informed boat owners know that having engine oil periodically analyzed for clues to its wear is a smart thing to do. With engine replacement costs ranging from thousands to tens of thousands of dollars, routine health examinations are a no-brainer. The obstacle for too many owners has been simple logistics: How do I find a lab? What do I collect the sample in, and how do I send it? Despite articles in consumer and trade publications listing contact information for such labs, many owners fail to avail themselves of these important services.
For owners of its engines Volvo Penta of the Americas recently announced an oil analysis program that aims to make it "fast and easy" to collect and mail samples to the Volvo Penta laboratory. After what the company bills as a "rigorous analysis" in its labs using the "latest advanced diagnostic equipment," owners will receive a full report by e-mail within one to two days.
As engine experts have pointed out before, it's important to establish a baseline set of numbers for an engine; one report doesn't tell the whole story. It's the changes from baseline that inform a trend, and the direction and speed of that trend is what's important. An added benefit of Volvo Penta's program, made possible by the Web, is that all reports are stored and accessible online. Volvo Penta of the Americas' vice president Ed Monacchio, in a press release, is quoted: "Regular analysis makes trends visible and provides an early warning of problems that can cause severe damage to the engine."
Volvo Penta of the Americas, 1300 Volvo Penta Dr., Chesapeake, Virginia 23320 USA, tel. 757–436–2800, website www.volvopenta.com/us.
Call for Backup
In the category "Why didn't someone market this sooner?" the Groco BB Series Seacock Backing Plate system fills a vital need.
While attending last year's International BoatBuilders' Exhibition & Conference (IBEX) in Louisville, Kentucky, I made my way to the Groco display. Seacock installation has ongoing challenges for boat builders and yards, and one of the most common is the fabrication and installation of the all-important load-distributing backing block, or plate. Backing blocks effectively increase the size of a seacock's flanged footprint, thereby distributing the load, while increasing the strength and reliability of the installation. The problem is that backing blocks can be made from only a few acceptable materials; those include prefabricated fiberglass laminate, often referred to as GPO, which, although pricey and not readily available, is preferred; and marine-grade, void-free, epoxy-encapsulated plywood. Stalwart for many years, the latter is time-consuming to prepare and install, and it can decay if allowed to remain wet indefinitely.
Logically, Groco, maker of a variety of marine plumbing products including quality seacocks and strainers, has introduced its new BB Series pre-manufactured backing plates. Made of fiberglass-like composite, they are strong at ½″ (12mm) thick, lightweight and rotproof, and are available in sizes that accommodate seacocks from ¾″ to 5″ (19mm to 127mm). One attractive feature is the series of threaded inserts that enable the seacocks to be secured by machine screws without having to through-bolt the hull.
Gross Mechanical Laboratories, 450 Marion Quimby Dr., Stevensville, MD 21666 USA, tel. 410–604–3800, fax 443–249–4030, website www.groco.net.
Jet Thrusters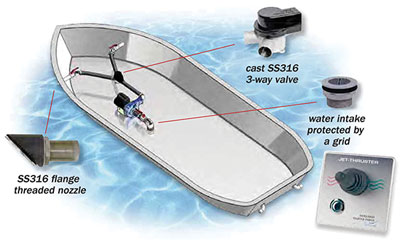 The annual Marine Equipment Trade Show (METS) is held at the enormous Amsterdam RAI convention center in The Netherlands. Inside are 11 pavilions, hundreds of booths partitioned by scores of aisles, and probably hundreds of thousands of products of every conceivable category, from engines to electronics, safety gear, fibers, scrapers, apparel, screws, and pins.
A common question when two acquaintances meet is: "Well, have you seen anything interesting?"
A response requires some thought, a quick inventory of what you've taken in over the past few days. It's almost too much to digest and make sense of. But at last year's METS, more than one person mentioned the new Jet Thrusters, manufactured by Holland Marine Parts and distributed in the United States by US Marine Products. Unlike conventional bow thrusters in which a double propeller is installed in a narrow-diameter tunnel through the bow of the boat, or the external torpedo-shaped thrusters bolted to the bottom of the hull, Jet Thrusters are simply nozzles installed flush with the hull, port and starboard at the bow, and at the stern if one desires. Turbulence created by the opening is much reduced due to the small diameter of each nozzle.
The system is fairly straightforward: an electrically powered pump draws water in from a through-hull and shoots it out through hoses to the nozzles. Four sizes are offered: the JT-30, -50, -70, and -90, suitable, the company says, for boats between 25′ and 65′ (7.6m and 19.8m). The small JT-30 unit is 12VDC, the JT-50 either 12VDC or 24VDC, and the larger two units are 24VDC. Force ranges from 66 to 198 thrust-lbs. Recommended battery capacity for the most powerful unit is 2 x 165 Ah. Propulsion is activated at the helm by pushing a joystick port and starboard.
Thread sizes for all components are Whitworth Pipe Thread DIN ISO 228 BSP (DIN 259) British Standard Pipe.
US Marine Products, 25 Constitution Dr., Taunton, MA 02780 USA, tel. 508–802–6035, fax 508–802–6006, website www.usmarineproducts.com.
Still Sailing in the Sun
PBB's first coverage of the remarkable 101′ (30.9m) sun-powered PlanetSolar was by its engineer Andre Moltschaniwskyj, partner of Craig Loomes in the New Zealand–based LOMOcean Design Ltd. (PBB No. 124, page 22). With all the interest in sustainable sources of nonfossil energy, it detailed many considerations that went into the yacht's design. Where much of the current effort today is focused on hybrid systems, PlanetSolar was to be propelled 100% by solar power.
A design criterion was the ability to circumnavigate the globe, which raised the ante considerably in terms of practically everything: length and beam (101′ x 52.7′/31m x 16.1m), battery capacity, solar-collection surface area…which ended up being 5,509 sq ft (512m2), including extendable wings that increase surface area when conditions permit. MS Turanor PlanetSolar, as she was christened ("after J.R.R. Tolkien mythology," says the website www.planetsolar.org), was constructed in 14 months by Knierim Yachtbau in Kiel, Germany, and launched in March 2010. Her foundation hull materials are epoxy, carbon fiber, and foam, resulting in a displacement of 89 tons.
She indeed circumnavigated between September 2010 and May 2012, relying exclusively on solar power for propulsion. Since then she has toured ports in the U.S. and Europe, promoting solar energy and conducting scientific studies. Last year she crossed the Atlantic, from Spain to the West Indies in 22 days, and then proceeded up the U.S. East Coast examining the Gulf Stream under the direction of professor and climatologist Martin Beniston of the University of Geneva.
After spending last winter in Lorient, France, for maintenance and refitting for additional scientific research, Turanor PlanetSolar was relaunched and scheduled to visit the Principality of Monaco, where the Solar1 Monte-Carlo Cup 2014 boat race will be held in July, and then sail to Greece with a team of archaeologists to study "submerged prehistoric landscapes."
Carolina Skiff Introduces New Model Lines
Billing itself as "the nation's #1 fiberglass boat builder," Carolina Skiff seemed to shake off any lingering malaise of the Great Recession when it announced last February it was introducing two new lines: the Sea Chaser Bay Runner Series and Tunnel Skiff Series.
The former, according to the company's CEO Joe Kirkland, is an all-around family boat that was redesigned to improve "tracking, turning, and acceleration." Features include the essential underwater LED lighting and a 5-gal (19-l) cast net bucket, a toe kick under the center console, and a quick-release windshield.
The Tunnel Skiff Series is aimed at shoal-water boaters, as in Florida Bay and other flats regions of the coast. The company says the 17′, 19′, 21′, and 24′ (5.2m, 5.8m, 6.4m, 7.3m) boats can plane in as little as 3″ (76mm) of water.
Carolina Skiff, 3231 Fulford Rd., Waycross, GA 31503 USA, tel. 800–422–7282, website www.carolinaskiff.com.