In designing the G4, Gunboat wanted a high-performance foiling catamaran that was also a luxury cruiser. That initial apparent contradiction led to others: While the G4, weighing 2.7 tons, is a heavy boat compared to other foilers, it also weighs less than yachts of similar size and accommodations.
When it was time for production, the G4 presented another challenge: how to build a production composite boat that was also a high-tech build.
"The boat is intended to be rapidly reproducible, and has dozens of molds," writes naval architect Doug Schickler, who addressed the G4's many challenges in Professional BoatBuilder No. 156. "Each joint between a part and its neighbor was regarded as a potential loss in assembly time, and great care was taken even at the design phase to ease assembly."
Schickler was part of a talented design-and-engineering team led by Holland Composites that applied extensive finite element analysis (FEA) to overcome the concept's contradictions to create an original and durable structural design. In addition to reading his story, "Flight Engineering," starting on page 40, you can learn more about production of the G4 in the following photos taken during the build of the prototype boat, Timbalero3, at Holland Composites' facility in Lelystad, The Netherlands.
As the main hull mold is turned over, the G4's largest central part shows off a hefty surface area of about 807 sq ft (75m2). Dimensions are 40' x 20' x 5.6' (12.m x 6.1m x 1.7m).
Applying prepreg to the mold: The G4's hull and deck laminations are carbon fiber with mostly Nomex honeycomb, chosen for its light weight, with sturdier Corecell foam in the boundaries of parts and areas that would be subjected to high slamming loads.
More prepreg application: To speed production, rebates and overlaps were built into the carbon fiber molds.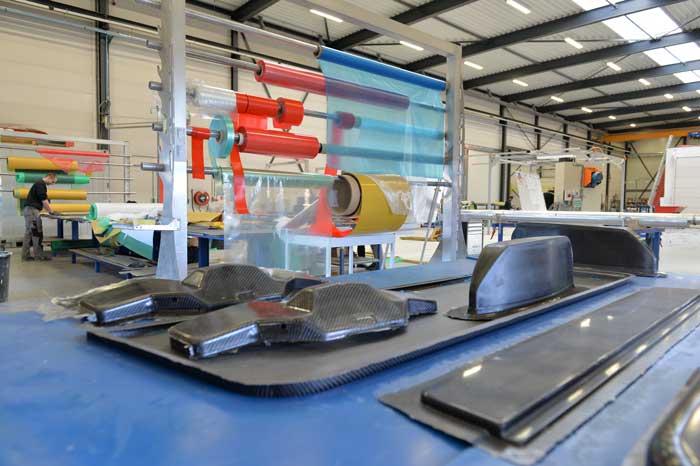 Some of the dozens of molded products and films that helped make prepreg production a more efficient assembly.
Instead of the traditional stacking deck and hull molds, the G4 mold has a vertical seam down the center of each hull that allows parts to be added from the outboard side. Here, workers at Holland Composites tab in transverse frames to the main hull section. Note on the left the additional outboard hull sections ready to go.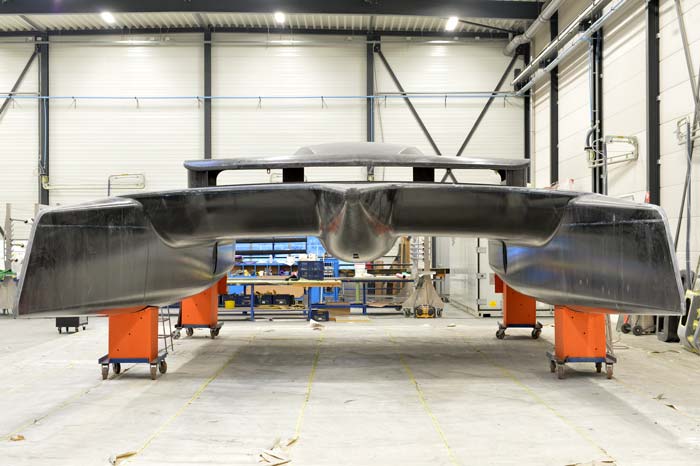 The finished hull and deck, awaiting paint.
With the mold for the lifting foils, Holland Composites installed all materials—including skins, longitudinal tapes, and webs—before applying any pressure.
That meant a single shot in the autoclave, which Holland Composites bought ahead of this project. At 21.3' x 6.9' (6.5m x 2.1m), the oven is large enough to fit the G4's sizable daggerboard molds.
The finished hull with daggerboards in the foreground.
The G4 is all wrapped up and ready for shipment in April 2015 to the Caribbean, where its final rigging was completed at St-Martin/Sint Maarten . . .
. . . and sea trials began.
Read "Flight Engineering" by Doug Schickler in Professional BoatBuilder No. 156; the magazine is free for qualifying members of the marine industry. Subscribe here.