The death of Renato "Sonny" Levi (see PBB No. 165, page 12) is an apt time to look at two books by Englishman Charles Lawrence that describe and catalog the famous Cowes-to-Torquay offshore powerboat races, in which Levi competed—with varying degrees of success.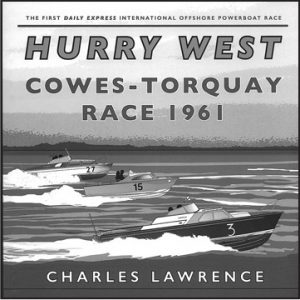 Courtesy Charles Lawrence
Lawrence is a history buff who wrote the article "Fairey Marine," in PBB No. 147, telling of the British company that built early hot-molded and fiberglass boats to C. Raymond Hunt's deep-V designs. In his books, Lawrence continues his research into the tangential tales of early offshore powerboat races. In the first, Hurry West: Cowes–Torquay Race 1961, he describes how the Miami–Nassau Race, first run in 1954, gained international attention four years later when Dick Bertram overwhelmed the competition in Moppie, a Hunt deep-V, and inspired Max Aitken, "proprietor" of the Daily Express newspaper in London, to sponsor a similar race from Cowes, around the Isle of Wight, and on to Torquay, 156 nautical miles down England's coast.
Conditions can be severe, as they were in the inaugural 1961 event, when 27 boats started and just nine finished. The winner was Thunderbolt, a Bruce Campbell Christina IV-class production powerboat that averaged 22 knots. Second was Jim Wynne in Yo Yo. Another contender was Glass Moppie, a 31' (9.4m) fiberglass version of Moppie, which led the race until clutch trouble doomed her.
Also having led at one point was 'A Speranziella, Levi's wood prototype powered by two 600-hp (450-kW) Crusaders. Built by Cantiere Navaltecnica in Anzio, Italy, she was relegated to sixth place by fuel and electrical problems, but more importantly she launched Levi's career in powerboat design, construction, and racing. After modifications, which included making the spray rails more parallel with the chines, she returned to win the 1963 running of the Cowes–Torquay.
Courtesy Charles Lawrence
The second book, Cowes–Torquay: Offshore Powerboat Races 1961–1978, should satisfy those readers who upon finishing the first book asked, "What about the next 17 years?!" For this formidable effort, Lawrence enlisted the services of Graham Stevens, also a marine historian and a well-known photographer. Lawrence not only has compiled a thorough list of boats, designers, and drivers, with brief descriptions of all, he has also published the official rules, entry forms, and race instructions.
These books, plus others including Sonny Levi and the Trianas, can be ordered at charleslawrencechiswick.co.uk. Cost is £20 ($25) each, plus shipping. PayPal accepted.