Here's how two experienced repair and refit technicians improved efficiency and stopped paying rent by switching from brick-and-mortar to a mobile shop.
My partner Pete Grundvig and I have had the business Paper Sailor (previously Grundvig Woodworks) for almost 30 years. We moved the shop multiple times during those decades but have almost always worked out of a brick-and-mortar shop in all or part of a rented building around St. Augustine, Florida. One iteration was in a steel boatbuilding facility where Mark Treworgy built his custom boats. Our other two shops were near or on the water, which meant we sometimes paid a premium for rent.
For a long time our idea was to create a mobile woodshop, or any kind of shop that could be easily moved to the boat we are working on. Anyone who has worked on boats in marinas or boatyards knows that all too often the tool you need to complete the job will invariably be back in the shop, not in the selection you packed in your truck for the day's work. Bringing a boat to a shop can be expensive, and if the refit is not extensive, it never warrants the boat moving away from its storage facility or boatyard. So being able to go to the project with all the needed tools is a super helpful proposition. Another advantage in our plan was not having to pay big rent to store a mobile woodshop when not in use.
Some of the anticipated drawbacks of giving up the brick-and-mortar shop included no walk-in traffic and the lack of storage for lumber or project components that may have to come off the boat. In practice we've found our trailer has brought a lot of attention in the boatyards where we work, which has gained us more work from people who are initially just interested in seeing what we have done to the trailer. As for not having the space to store extra material and projects, that can be a blessing as well.
In 2021 as we firmed up plans for a mobile shop, we drew on numerous influences and our earliest inspirations. We've seen some interesting workshops through the years. Notable was one moored in Carriacou (the Grenadines): a welding shop on a 50' (15.24m) trimaran. It had generators, welders, pipe benders, and anything you would need for any kind of metal work. With that in mind, we considered building a workshop on a barge where boats could raft while we worked on them. But where would we locate it? And once we had a secure mooring place, how mobile would it ultimately be?
For a truly mobile shop on wheels, we considered a school bus or a big trailer, each with advantages and disadvantages of space and mobility. Out of necessity and opportunity, we opted for a 13' (3.96m) motorcycle hauler we can tow behind our 7.3-liter diesel truck. It is low, with no headroom inside except where the floor lowers for a bike to load off the drop-down door in the back.
We found the used base trailer for $1,200 and thought it might meet our needs. Of course, we would have to downsize the contents of our 70' x 30' (21.34m x 9.14m) brick-and-mortar (actually, cypress-and-tin) woodshop to fit in this much smaller space. We knew we would become more efficient, and a mobile woodshop would help reduce overhead cost. This meant, however, that some of the big tools had to go—the three-phase Delta Unisaw tablesaw, the 22" (56cm) floor planer, and the big bandsaw. We replaced them with smaller tools, which limits some of the milling we can do, but we felt this compromise would free us from being tied to one place and paying high rent.
The mobile shop was a challenge to design so that all the tools we needed could be housed, transported, and used in one place. We thought of this trailer as a prototype of sorts, but we are very happy with the end results.
Kourtney Patterson
We started by cutting out the sides of the trailer for rectangular lengthwise doors along both sides that would hinge up, create shade, and allow ample access to the shop space (Photo 1). This allows us to work outside the shop and feed lumber in from the sides of the trailer through the tools inside. It means virtually no limit to the length of stock we can work with, as long as we park the trailer in the right place, not too close to a building or a boat.
Kourtney Patterson
Inside, we started with the tablesaw, as it was the biggest tool. Our choice was a Delta contractor saw (Photo 2). We built a stand and bolted it down. We then built a flush work surface, making sure it landed in the opening of both side doors correctly to run lumber through the trailer. On one side of the tablesaw, we inset a flush router in the worktop. When not in use, it retracts out of the way below the surface.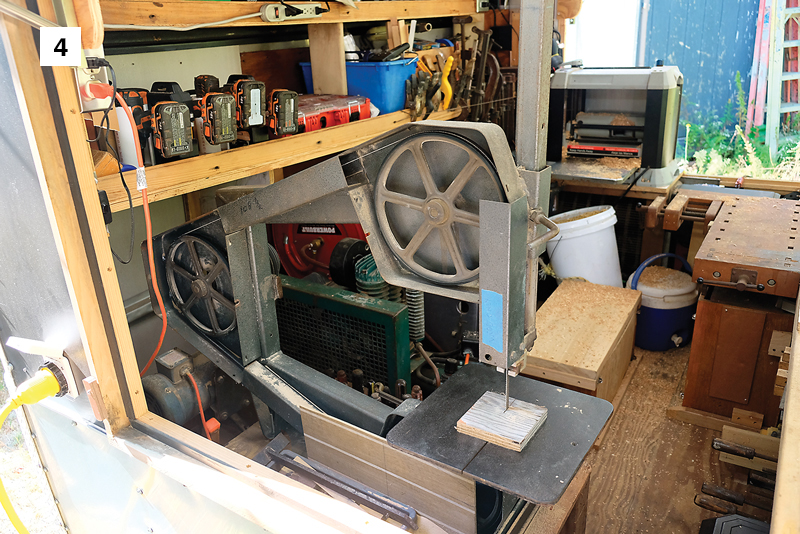 Aaron Porter
Next, we set in our vintage three-wheel bandsaw (Photo 4) with a 24" (61cm) throat and 9" (23cm) height so that the worktop and the bandsaw table are the same height. This would limit the board width we could cut on an angle, but it worked great on most common cuts with the bandsaw table on, or close to, level.
We located the 13" (33cm) portable Delta surface planer (Photo 5) opposite the bandsaw so as to line up the 13" feed of the planer with the ample throat of the bandsaw. This allows us to plane nearly limitless lengths of 13"-wide wood without needing to move the idle bandsaw out of the way.
Aaron Porter
At the back of the trailer (the only interior standing space), the rear gate pulls down to the ground (Photo 6). We decided to bolt a workbench with a wood vise to the gate, so that when the gate is lowered, the bench is outside, ready to use with more limitless workbench space.
Aaron Porter
To accommodate it we had to create a space around the bench so that when the gate was up it would fit snuggly against the shelves under the interior worktable and adjacent to the tablesaw/router table, where all our hand power tools were securely stowed (Photo 7).
Aaron Porter
There was still space in the standing-room area to bolt a sliding compound miter saw for easy access and ample clearance for chopping lumber. This saw is limited in length to about 12' (3.66m) on one side, and we have about 5'8" (1.73m) headroom to use it (Photo 8).
Aaron Porter
After all the tools were set inside, on the mobile shop's maiden voyage we had forgotten to lock the slide on the miter saw, and it popped open and snapped off at its hinge—the first lesson of mobile shops learned the hard way. We had to buy a new saw.
Aaron Porter
We decided that a small lathe and an air compressor would be handy for boat work. The lathe went toward the front of the trailer (Photo 9), under a shelf for sandpaper, rags, clamps, and batteries for the drills  (Photo 10).
Aaron Porter
We secured the rechargeable drills' PVC half-pipe holders to that shelf and set the compressor under it right next to the lathe, mounting a hose reel next to it (Photo 11).
Aaron Porter
Then it was time to fit in all our hand tools, planes, clamps, screws, and drill bits. All these were put wherever we could find space, and it seemed things fell into place in a fun and easily accessible way. Our favorite is the socket wrench set, placed to make grabbing any size wrench easy and quick (Photo 12).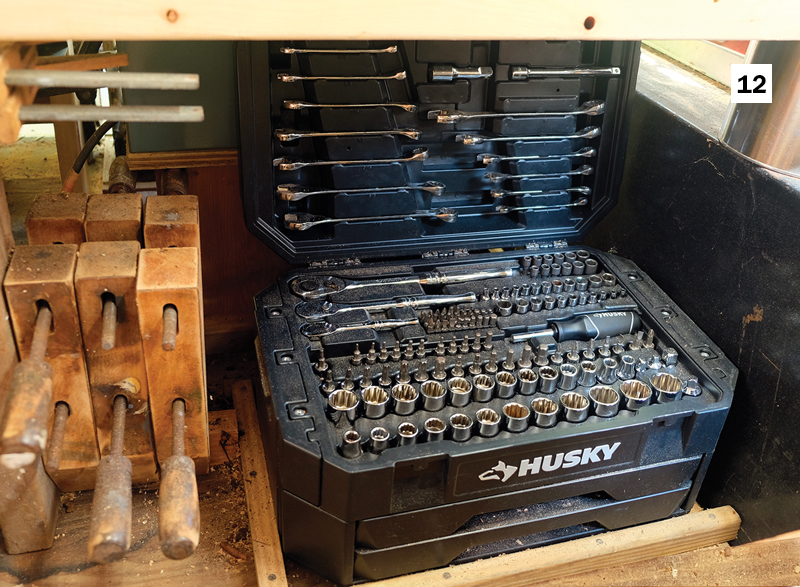 Aaron Porter
We screwed heavy wood boxes to the floor to hold hammers and hefty pipe wrenches. We mounted extra saw blades to a board and securely bolted a grinder for sharpening tools (Photo 13) in a spare space in the back, with a fire extinguisher underneath.
Aaron Porter
In all this packing of tools, we tried to place things so the weight was distributed according to the trailer's design. We knew it was unlikely that we would put all the tools exactly where we wanted them the first time, so we tried to make it possible to unbolt or keep it open to new tools coming in, or old tools leaving when they break or must be replaced. Although we laid it out with small pieces of paper indicating the size of the tools in relation to the trailer, we feel as if there was something magical happening while building this trailer. Everything sort of fell into place in an almost organic way.
Aaron Porter
We installed an electrical panel box that could connect to shore power via a 30-amp plug (Photos 14 and 15). Then we wired in receptacles and breakers and lights so that every tool is plugged in and ready to use as soon as the trailer has service. The only shop tool we have to set up to operate is our little drill press, which can be lifted out of a storage space between the tablesaw and the planer.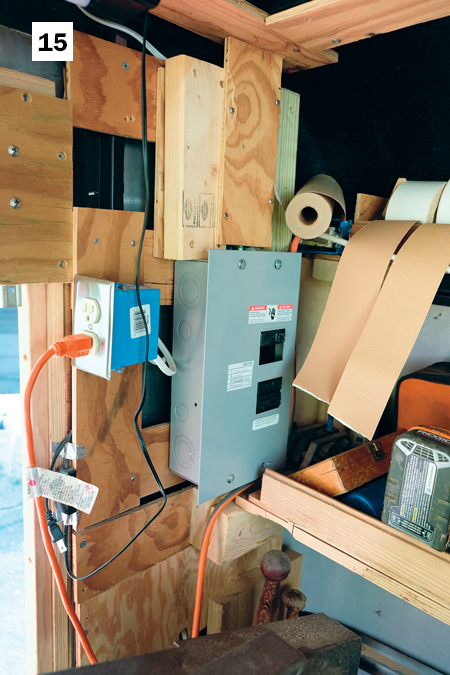 Aaron Porter
Using the tools from the outside is a bit of a change from the old shop. You need a longer push stick and must take extra care to make sure the shop table is clear and ready for every step of a project, but everything feels the way it does in a brick-and-mortar shop. Heights and accessibility are key to having a functioning workshop on wheels or on a fixed foundation.
A huge plus is that the mobile unit is bright and well ventilated. The downside is that because you are out in the weather, rainy, cold days are limiting, unless you can park inside a building or under cover.
All in all, we are super happy with the way the shop worked out. Of course, we had to buy a vehicle that could tow the shop, as we estimated it weighed 2,000 lbs empty and 6,000 lbs full (907 kg and 2,722 kg).
If we get a brick-and-mortar shop again, we will keep this mobile unit ready to go for in-the-field work. On top of its affordability and flexibility, our mobile shop is a great time saver because all our tools are close at hand.
About the Author: Kourtney Patterson and her partner, Pete Grundvig, have worked on and sailed boats for more than 30 years. Their service and refit company, Paper Sailor, is focused on marine woodwork—building and rebuilding masts and spars, making new custom interiors, and replacing planks and keels.