April/May 2018 — Table of Contents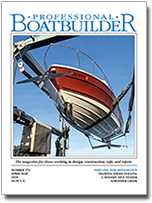 On the cover: Harry Larsen, a retired applied mathematician who formerly worked for Boeing Marine Systems, hauls out Talaria IV at his property in Vashon Island, Washington. A longtime fan of hydrofoiling technology, Larsen fitted his 1980s-vintage Bayliner Monterey with custom retractable foils and a sophisticated control system of his own design to fully automate foilborne operation. Story on page 22.
Photograph by Dieter Loibner.
FEATURES
22  Foiling, Part 1: Rising to the Occasion
by Dieter Loibner
Advances in foil design, construction materials, and networked ride controls have led to a renaissance in hydrofoiling.
36  What Grows in the Darkness of Diesel
by Nigel Calder
From taking samples and cleaning tanks to arming with biocides, here are strategies to help captains and service yards fight contaminated diesel.
52  Dive Tender 14
by Reuel Parker
A new generation of one-person fishing skiffs inspire a slightly larger dive tender and fishing boat designed for easy, affordable access to the water.
56  Tooling and Techniques from Schooner Creek
by Dan Spurr
A 40-year-old Oregon custom boat shop relies on ingenuity, thrift, and diversity to stay profitable.
DEPARTMENTS
4  Letters, Etc.
Readers comment on practical adoption of lithium-ion battery systems; fire risk and suppression for lithium-ion batteries; installing drain valves in hydro-lift mufflers; and prop nut sequencing.
12  Rovings
compiled by Dan Spurr
A production foiler from Bénéteau; the legacy of Everett Pearson; luxury designs from Claydon Reeves; double-duty deck cranes; and eight bells Ian Farrier.
76  Parting Shot
by Leon MacCorkle
A boatyard owner calls on all marine professionals to look at themselves as sources and recipients of industry expertise and training.
READER SERVICES
69  New Products and Processes
70  Connections
73  Classified Advertising