Volume 2021-05
Professional BoatBuilder's advertising department uses this page to publish excerpts from press releases showcasing the newest products and processes in the marine industry.
Sports Fisher Pole

The Sports Fisher Pole (patent-pending) is a unique telescoping shade pole made out of kevlar and carbon fiber. The pole extends from 72″ to 90″ with a diameter of 2″ that tapers down to 1.5″ to fit in a regular rod holder. Available in black, it weighs only 5 lbs and is extremely strong. Support straps must be installed to equalize pressure to front and back of poles while the poles are under load.

Contact: Phillip; 954-324-4997; info@nullcarbiepoles.com; www.carbiepoles.com
---
IFE-AS2WS Clamps

IFE Americas, Inc. has added the new IFE-AS2WS clamps to our product range. These clamps have Belleville washer springs that give the clamp a dynamic feature that compensates for joint expansion and contraction due to thermal cycling as well as compression set in rubber hoses. They are available in all stainless steel for excellent corrosion resistance.

Contact: IFE Americas; 248-446-1900; info@nullife-group.com; www.ife-group.com
---
Produce Ultra-Pure Water from Seawater or Dock Water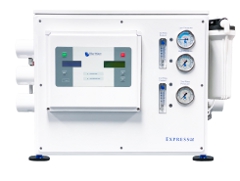 The new Blue Water Desalination Express ClearMate combines two of Blue Water Desalination's efficient watermaker systems into one convenient package. Using the same leading-edge technology as the popular Express Series, you can now produce ultra-pure water from either seawater or dock water with the touch of a button. This system is available in several different configurations and production outputs to best meet each vessel's needs. Rated production from seawater ranges from 750 to 1,800 GPD (2,480 LPD to 6,810 LPD) and from 1,000 to 2,600 GPD (3,785 LPD to 9,840 LPD) from dock water.

Contact: Blue Water Desalination; 310-684-1467; sales@nullbwdesal.com;
www.bluewaterdesalination.com
---
Marine-Grade Adhesives and Sealants
Forever applicators have been forced into traditional messy offerings that are difficult to dispense, impossible to tool and even harder to clean up. Pettit AnchorTech sealants and adhesives combine years of formulation evolution with user-friendly application to manufacture a line of products built for the rigors of the marine industry. These products withstand all weather, provide low-temperature application, prevent cracking and shrinking, are low-odor, flexible and paintable.
Contact: Pettit Paint; 800-221-4466; www.pettitpaint.com
---
Sponsored E-mail Blasts