Professional BoatBuilder is offered free of charge to those whose primary employment is in the boat construction, design, and repair fields. While it only takes a moment to subscribe or renew, the approval process may take as long as 2 to 4 weeks.
Are you a Marine Professional?


NOTE: Free subscriptions to marine professionals outside the U.S. and Canada will be in digital format only. To receive print copies, a subscription must be purchased. Click here to order a paid subscription.
Our auditors require a free subscription form to be filled out in order to receive Professional BoatBuilder magazine. You can complete the online "SUBSCRIBE" form, or call, write, or fax us requesting a form be sent to you and/or your company.
Those who do not qualify may purchase a subscription. Please contact us regarding U.S., Canadian, and overseas subscription pricing.
Please contact Customer Service with all your subscription needs:
Customer Service
Phone: 1-800-877-5284
International customers please call: 1-937-610-0234
Fax: 1-937-890-0221
Email: customer.service@nullproboat.com
You can find your account number above your name on your mailing label. Please keep your account number for future use when inquiring about your account.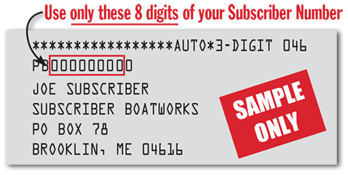 Delivery
Professional BoatBuilder is a bimonthly magazine (six issues a year.) Your copy should reach you during the first week of the cover date. If you live outside the U.S., subscriptions may take several weeks longer to arrive.
Renewals
Please remember to renew your subscription once a year to keep it coming in the mail. Our auditors require up to date information on you and your company to qualify for the free subscription. We will send you reminders to do this.
Change of Address
Change of address can take up to 12 weeks to process, so please let us know as soon as possible regarding an address change via mail, fax, phone, or online. You will need to provide us with your name, company name, old and new address when calling, faxing, or writing. You will need your 8 digit account number to access your account online. Please see sample label above.